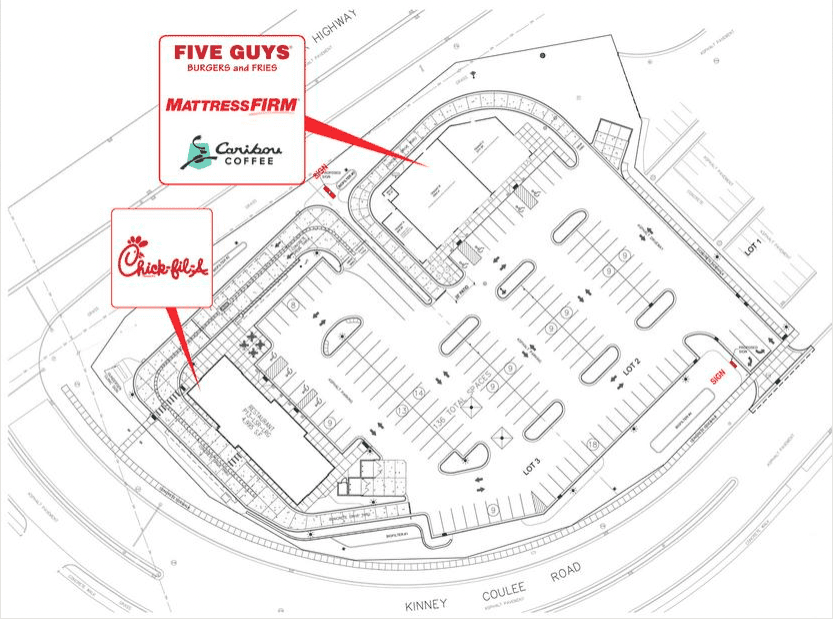 The La Crosse Tribune first mentioned Chick-fil-A possibly coming in March of 2020 (read >>).
Earlier this month, La Crosse-based commercial contractor DBS Group announced >> that Venture Pass Partners LLC of Minneapolis chose their company to build a multi-tenant building at that same Onalaska Corner. DBS's name is also on the promotional website for the location. The architecture matches that of the Chick-fil-A location. (read >>) 
The promotional materials show Chick-fil-A's at the corner with two lanes driving around the building. The second building if farther northeast along Highway 16, also with a lane around the Highway 16 side of the business ending near and outdoor patio, which would be believed to be for Caribou Coffee.  There are a total of 136 parking spaces for all of the businesses in the development
A call by Engage Greater La Crosse to the developer was not returned at this time.
Chick-fil-A's nearest locations are in Rochester, Madison and Dubuque.
Five Guys Burgers & Fries has its nearest locations in Rochester, Eau Claire, and Madison.
MattressFIRM's nearest locations are in Rochester, Eau Claire, and Madison.