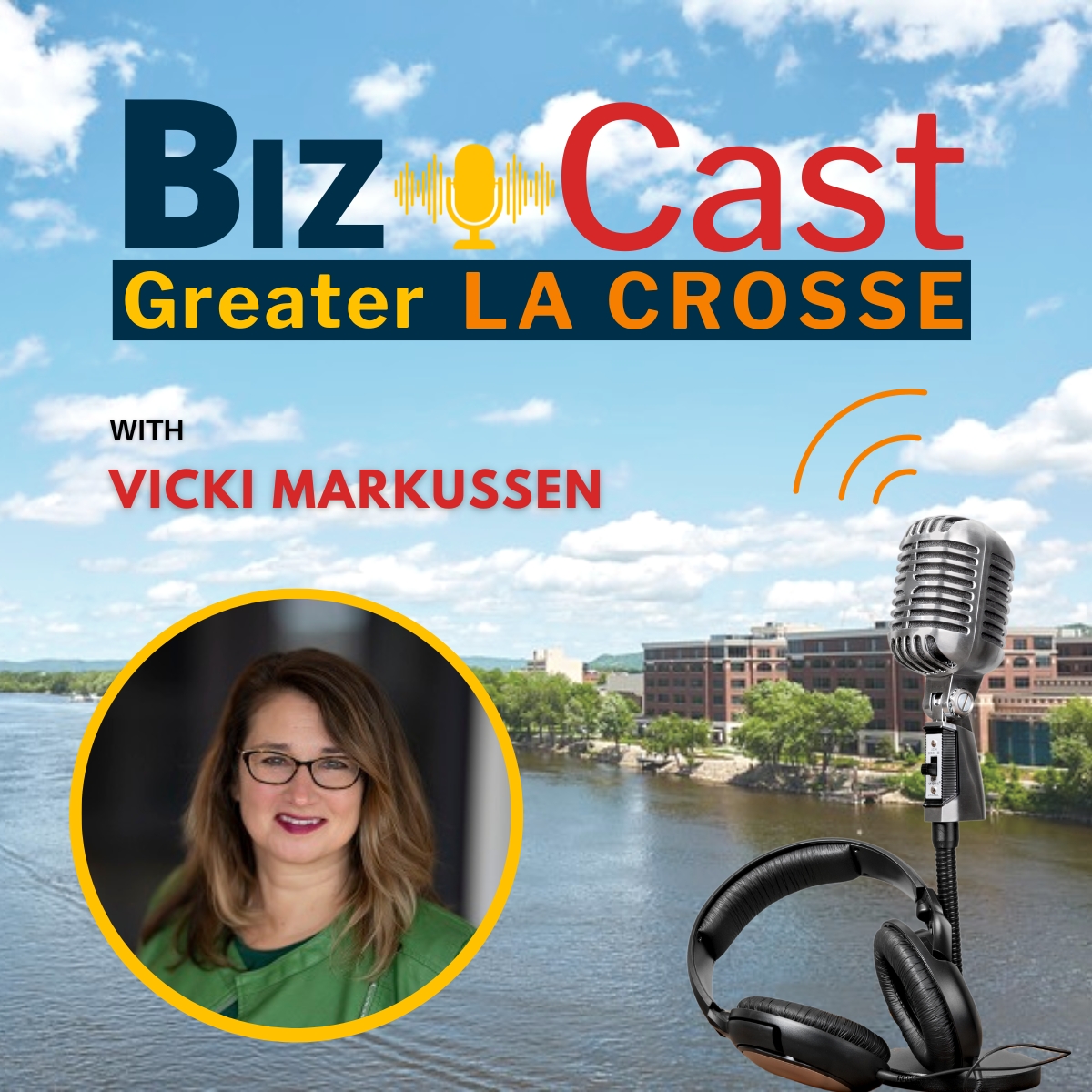 Episode 40
Tourism Magnet Haleigh Doyle with Explore La Crosse
About BizCast Greater La Crosse
We bring you news from the business community. From startups to experienced problem solvers, you'll get in-depth insight on the challenges and opportunities of doing business in Greater La Crosse. Our show is a collaboration between WIZMNews.com and BizNews Greater La Crosse ( GreaterLaCrosse.media ).
Full Transcript [ generated by AI]
BizCast 041 Haleigh Doyle Tourism Magnet
[00:00:00] Haleigh Doyle: It's fun to love where you live, but also get to promote that to everyone else and enhance their lives and their stays when they come as best that we can.
[00:00:08] Vicki Markussen: Welcome to BizCast Greater La Crosse, a weekly podcast from BizNews. We bring you news from the business community. I am your host and founder, Vicki Markussen, and I have the pleasure of having Haleigh Doyle with me. She's the director of media and marketing at Explore La Crosse, which is also known as the La Crosse County Convention and Visitors.
[00:00:27] Vicki Markussen: Bureau, but we all know it as Explore La Crosse, which is great branding, which is a great segue into what you do. So I wanted to have you on because I'm on the board and I see all the amazing work that you do and all the cutting edge type of marketing that you do. And I think it would be fascinating for a lot of people to hear about and just to give an example.
[00:00:47] Vicki Markussen: So, the big, it was World War II ship, right? The LST came and had record attendance for its stop, so it has never been to La Crosse before. And we set the [00:01:00] record, yay! And a lot of it is because you were helping promote it and getting people from outside. So talk about what success for that event look like for you from a marketing perspective.
[00:01:11] Vicki Markussen: Yeah.
[00:01:12] Haleigh Doyle: So explore La Crosse was extremely blessed to get tapped into as a primarily volunteer organization that runs the LST. They really look to the DMOs or destination marketing organizations to help push it to the audience. of people that would be interested or otherwise just wanting to learn more and we, we did a lot of marketing for them, whether that be digital or specifically earned media picked up a lot of coverage for us, but it was extremely valuable.
[00:01:38] Haleigh Doyle: We'll kind of tap into the tourism industry, but there isn't always a point of sale or closure to every campaign there and this LST gave us a lot of like warm, fuzzy feelings in terms of just doing something super beneficial on behalf of the veteran community, but also having some closure and having true results to a full campaign and seeing the impact that it had on a broader audience.
[00:01:59] Haleigh Doyle: So that, it [00:02:00] was a really neat really neat project to be a part of. And with over 17, 000 tours, it was obviously successful.
[00:02:06] Vicki Markussen: Absolutely. And so the really obvious thing to state is that's the mission of Explore La Crosse. Correct. Is getting people to this area and getting to love it as much as we do.
[00:02:17] Haleigh Doyle: Absolutely. That's the joy of the job. It's fun to love where you live, but also get to promote that to everyone else and enhance their lives and their stays when they come as best that we can. So, I guess that's our mission is to bring overnight stays here and further that economic impact of the visitors and enhance their stays.
[00:02:35] Haleigh Doyle: Promoting the local businesses that make our area so special alongside of the topography. We're so blessed to have
[00:02:41] Vicki Markussen: yeah, and obviously having visitors draw being a destination for visitors causes us to need a lot of hotels that are located throughout. As we said, it is La Crosse County Convention and Visitors Bureau.
[00:02:55] Vicki Markussen: So what is it like having to cover and provide [00:03:00] equal access and equal exposure to all of these amazing communities that we have.
[00:03:06] Haleigh Doyle: It is a blessing and a curse. I would, I always like to say, so we run things through our fairness filter because we are funded on room tax dollars from six municipalities. I know a direct or executive director has been on before too, and talked about them.
[00:03:21] Haleigh Doyle: We have La Crescent, Minnesota La Crosse, Onalaska, West Salem, town of Campbell. And Holman, and it's awesome to get to promote all of them because they're all within driving distance and no one's really shy of driving if there's an awesome experience close by. So our visitors aren't threatened by that, and it gives us a lot of unique opportunities to tap into not only different topography, but different.
[00:03:44] Haleigh Doyle: experiences because every municipality has a different culture to it. But like I said, it's a blessing and a curse with so much to do, we have something truly for every visitor. And so in terms of marketing, whether that be for our municipalities or just when we're [00:04:00] targeting visitors, it is a challenge to make sure that we represent everyone equally.
[00:04:05] Haleigh Doyle: So the marketing department really runs on what we call the fairness filter and that's whatever medium we push out, whether that be hosting a creator, pushing out a published piece or making an ad or a digital campaign, we try to represent at least three of our six municipalities and everything we do, whether that be a landmark, the municipality itself or a business that resides within.
[00:04:27] Haleigh Doyle: So, with that room tax dollar funding, we really try to hold ourselves accountable to make sure everyone at least gets some equity. Even though La Crosse is big and kind of the namesake of our organization, it's, it's important to represent everyone, and we don't take that lightly. Well, and
[00:04:42] Vicki Markussen: it's especially interesting because, every business has to look at who actually pays us to do what we do that we have to drive value to and each municipality decides whether how much room tax you get from the hotel stays that are within their [00:05:00] municipality, right?
[00:05:01] Vicki Markussen: And so the result of doing that really well isn't that it's well, it's driving more room tax dollars, but it's the ripple effect into restaurants and hotels. And so they're the secondary beneficiaries of what we what you do it explore La Crosse. And so how do you decide the visitors that you are targeting?
[00:05:24] Vicki Markussen: A lot of businesses will say, Well, we have a lot of people coming for this specifically, but you have the fairness factor. So how do you decide that visitor demographic?
[00:05:34] Haleigh Doyle: Yeah, so we have a lot of research that goes into how we make those decisions there.
[00:05:40] Haleigh Doyle: But there are definitely main demographics and geographics that we lean into that have been trying to true over time. But we are always learning as well. So we have, in terms of geographics, we definitely lean into the Midwest. and driving destinations. We know we're a road trip destination, and we don't shy away from that message.
[00:05:59] Haleigh Doyle: We have [00:06:00] a slogan of just a road trip away, which is great, but that definitely includes Minneapolis, St. Paul area, Milwaukee, Chicagoland, Madison, and then we're diving more into Iowa and South Dakota based on some of the analytics that we've received through a couple of platforms that we have.
[00:06:18] Haleigh Doyle: So we're testing Sioux Falls, especially in South Dakota because we are just straight drive from there, things like that. But contrary to the businesses, like you say, they lean into a specific niche, we represent members in so many industries. We have over 400 business members that opt into all of the programs that we offer.
[00:06:37] Haleigh Doyle: And with the variety of industries and having something for every kind of visitor, it does make it complex, but we do lean into outdoor recreation. Thank you. family activities or family fun. Craft beverages has proven to be a huge draw for us, which we're blessed to have so many. And we have our craft beverage trail that lets us promote that with ease.
[00:06:57] Haleigh Doyle: But festivals and events is something [00:07:00] La Crosse is definitely famous for. We have our big hitters, obviously, like Rotary Lights and Oktoberfest USA, but there is something always going on, and it always battles for the number one and number two place on our website, the festivals or calendar of events.
[00:07:14] Haleigh Doyle: page is always the first or second most viewed page, even above our home page on our website. So we definitely lean into that messaging a lot and then how to enhance their stay beyond that so that they go to the event or festival, but what else are they going to do while they're here? And that's where we lean into those other industries and niches.
[00:07:34] Haleigh Doyle: to help further their enjoyment and their experience while they're here. Yeah.
[00:07:38] Vicki Markussen: And it's interesting to, and I'm gonna tell you all the things that you already know. But it's interesting because your website and even your emails service people already living here that just want to know. What's happening this weekend?
[00:07:51] Vicki Markussen: And I give an example. We just were hosting two of the Luxembourg students from the sister city exchange. And that was what they, what [00:08:00] the organizers turned to have. Hey, if you're looking for something to do with your visitors, here's the Explore La Crosse website. It has a ton on there. So you have to straddle.
[00:08:09] Vicki Markussen: Obviously you want to attract, that's where your dollars are from. But any activity in the community, you also have a role in, in, in our promoting Even if your audience is
[00:08:19] Haleigh Doyle: external. Absolutely. Even when I was a student at UWL, we use the calendar of events to find things to do off campus things like that.
[00:08:27] Haleigh Doyle: But we also really were lucky to be able to lean into our community and locals more so during the pandemic. So you suggest safe ways for them to get out of the house, things like that. So while it wasn't safe to necessarily promote travelers and the messaging was definitely like when you're ready because we want to make sure we're appropriate and sensitive to the times, we were able to reach out more so and be a resource to our local community during that time.
[00:08:54] Haleigh Doyle: And I think that really furthered our local use on our website, not just the regional. And [00:09:00] Midwest use.
[00:09:01] Vicki Markussen: So how do you, as we think about that external audience, how do you ensure that we're not just a one and done destination? How do you get them to come back time and time again?
[00:09:13] Haleigh Doyle: Yeah, so we definitely used retargeting ads.
[00:09:17] Haleigh Doyle: But we are really lucky to have the hospitality partners that we have that encourage that return stay. And even though some people shy away from the cold and the Midwest and everything, every season here really has something to lean into and offer, and we're able to. spread that messaging throughout a lot of different avenues.
[00:09:37] Haleigh Doyle: But with all of the campaigns that we run, whether it's Ignite Your Senses last year or Name Your Niche, they're vague enough that it covers enough of our industries that we can highlight multiple reasons to come in one message. So that even if they come during the summer, they're aware of things that happen in the winter.
[00:09:56] Haleigh Doyle: But again, we're just so blessed to have the hospitality partners that we do that [00:10:00] really make people feel welcome and inspired to come
[00:10:02] Vicki Markussen: again. So you talked about the campaigns, the campaign themes. Why are those? And how do you continue to be creative with them to that? I don't
[00:10:12] Haleigh Doyle: know. Some of those are just like you're laying in bed at night, and you have to quick, jot it down, but they know your senses really was a strong campaign for each season because whether it be taste or smile or touch, you could touch or highlight.
[00:10:26] Haleigh Doyle: So many different industries within that and pull specific partners. And so that was really valuable. The name, your niche as well is because we have something for everyone, even if the photo leans into one industry, we can make everyone feel like they could find something to do here. Getting creative is hard, but with the seasons that come through and the events and festivals we have a lot of creative opportunity there, but it is hard to.
[00:10:51] Haleigh Doyle: to stay creative and in front of everyone in a way that they want to be touched. But sometimes when you work with a specific [00:11:00] magazine or a co-op opportunity that does have a niche, that helps us lean into a specific message as well.
[00:11:05] Vicki Markussen: One of the things that I noticed quickly when you came in to explore La Crosse was pulling in Basically, people who love the Siri become your raving fans, right?
[00:11:17] Vicki Markussen: So on Instagram, like you, you started to feature photos taken by your average person. So talk about the strategy behind that.
[00:11:29] Haleigh Doyle: Yeah, we, we all know that authentic marketing is. so much more valuable than the sales side. And when it comes to travel, people really want to know that the user or the experience was valid, and it wasn't just a sales pitch.
[00:11:42] Haleigh Doyle: And so UGC or user-generated content has become an ever-growing important part of marketing, whether that be for tourism or any business really. And we have a really cool program that pulls in anyone that uses hashtags relevant to La Crosse or our hashtag explore [00:12:00] La Crosse. And it allows us. to mass ask if we can have rights to their photo to just use digitally.
[00:12:06] Haleigh Doyle: And so our Instagram is singularly, unless it's video really created by us, like a real, it is singularly user-generated content. And that has been, that has proven to be a very strong asset on our website because it is authentic experiences that truly happened or views that people really saw. It's not a professional brand photo and in terms of Instagram it always has been more photo oriented that way anyways.
[00:12:32] Haleigh Doyle: And I think that's a really strong piece that we use, and it definitely leads into more of that content creator piece that's so important these days as well.
[00:12:41] Vicki Markussen: Yeah, so let's stay on that for just a little bit. And I'm going to merge that with, in my journalism education, it was always about, if it comes from the media, it's instantly seen back in my day, it's instantly seen.
[00:12:56] Vicki Markussen: So then you take that into marketing, and it's always about testimonials. [00:13:00] What are other people saying about you that adds validity? And so how does that play into, you've touched on some of it already. How does that play into the content, and who's creating content for you?
[00:13:12] Haleigh Doyle: Yeah. So in terms of content creators.
[00:13:15] Haleigh Doyle: And the content that we pull from authentic audiences is we host familiarization tours. So whether that be on more of the professional side, business planners or meeting planners that want to come and bring people here to really experience what the La Crosse region has to offer and sets apart, but definitely on the leisure side, we do familiarization tours.
[00:13:34] Haleigh Doyle: Yeah. to whether that be for creators or travel writers, we host independent travel writers as well as influencers and then newly ambassadors as well, which is even on the smaller scale of people. But we pick them based on nation size. So something that we've learned over time is that just because they're big, doesn't mean they're the best.
[00:13:56] Haleigh Doyle: And. Smaller audiences are definitely [00:14:00] more engaged with creators as well. And we feel that we get more longevity out of not necessarily itty bitty creators, but in that mid-range, whether that be 5, 000 to 12, 000 followers because their engagement is so much higher. But we align their niches and their interests with either the season or the event that we are helping them attend or just what their content leans into, whether that be lodging.
[00:14:27] Haleigh Doyle: We've had people that primarily focus on lodging or people that primarily focus on craft beverages. We make sure that it aligns with our audience. So that what they're promoting makes sense. And then again, there is value to each side. So size, so those ambassadors really help us well. And then we involve our members.
[00:14:46] Haleigh Doyle: So with that niche that to make sure that the creator aligns, we really get our members involved, whether that be lodging, who are so blessed to have partnered with us on so many creators. or restaurants, we make sure that the itineraries that we make for these [00:15:00] people really promotes again, all of the municipalities, at least three, as well as three different industries at a minimum to promote the region and what's going on here.
[00:15:11] Haleigh Doyle: But we're, again, we're really grateful for all the partners that we have that provide accessibility. experiences. And then we also use different platforms to help us identify these creators to make sure that they fit the
[00:15:21] Vicki Markussen: bill. And that's just the content creation is just part of the media mix that you're using.
[00:15:27] Vicki Markussen: What else are you using? So
[00:15:29] Haleigh Doyle: like you mentioned, earned media is still huge. Whether we push out pitches to people or we just get picked up organically through other efforts. That is huge because just like the content creators, it's not sold necessarily content, and it is seen as credible, but we do also use digital marketing whether that be paid.
[00:15:49] Haleigh Doyle: So native advertising that looks like it's earned media, but is a message that you're making sure you promote. Otherwise, again, we do that digital, which is the social or Google advertising as [00:16:00] well. And then
[00:16:00] Vicki Markussen: you're also doing brand assets. I just call it media. So talk about when you decide to pay to have some things professionally developed that adds to your toolbox, so to speak.
[00:16:13] Haleigh Doyle: Yeah, in the last two years, we got all new videography and photography assets. So on a lot of our paid campaigns, we use those because they were strategically chosen at the locations they were shot or otherwise. And the models that we used, they're strategically chosen to fit different campaigns and niches that we promote. I think it's important to invest in those every few years, though, to make sure that not only your models are relevant and their dresses relevant, but with the different analytics people can pull nowadays, messaging changes and values change and making sure your content aligns with that. So you get the best use out of it is super important.
[00:16:54] Vicki Markussen: Yeah, it's interesting because I'm sure you're aware most businesses struggle to go, what do I [00:17:00] post for the day? And then you're supposed to see what's trending out there so that you get picked up. And at some point you just go, that is so national, right? Like, I don't need to draw in a national audience.
[00:17:11] Vicki Markussen: I just need to tell somebody the lunch special or what we have on sale this week or something. So as you think about some of the businesses that are your members, how do they, with their simple social media marketing, we'll say, and other efforts, how can they tap into what you're doing at Explore La Crosse?
[00:17:33] Vicki Markussen: Whether it's learning from you, or are there some things that, from a marketing standpoint, they gain because you're doing it at such a mass? scale and with such a larger
[00:17:43] Haleigh Doyle: budget. Absolutely. I think in general businesses leaning into what makes them unique and having a brand personality is super beneficial.
[00:17:52] Haleigh Doyle: We're super lucky to have, we'll just plug quick trip. For example, they have such a strong personality on social and not everyone can hone in on that[00:18:00] as specifically, but I think that. plays a lot into it, but explore La Crosse. We mentioned the membership opportunities there, and that's a really strong piece where we can help with your marketing.
[00:18:10] Haleigh Doyle: So while we're not a marketing agency for businesses, most of our membership opportunities lean into the marketing realm. So whether that be a personal blog or reel we make on behalf of your business that you get leverage out of our participating in our sweepstakes. Where we get sometimes over 15, 000 entries for getaways here, you're getting promotion that way, and it gives you content to share as well.
[00:18:33] Haleigh Doyle: So our membership opportunities are much broader than that. And we have an awesome director of membership, Deb Carlson, that can help businesses navigate what those opportunities are, but then ultimately you work with myself and my team to, to create that content, and we love doing it, and it helps us as much as it helps the individual business.
[00:18:51] Haleigh Doyle: to have the business push it further as well. So it's really a team effort. And again, it comes down to our values of making sure that we're [00:19:00] emphasizing and promoting what makes our agent special, which is these small businesses you've mentioned.
[00:19:05] Vicki Markussen: Yeah. And the other piece too, and this is just from me seeing what you're doing from.
[00:19:09] Vicki Markussen: being on the board, the insight you have into who is coming, how can you see some of the businesses tapping into that? Like you can see you, you see the demographics of who's coming. How can the businesses, again, like tap into that or know when the there's a conference coming into town or things of that nature.
[00:19:31] Haleigh Doyle: Yep. So part of it, again, part of our membership opportunities. is having access or by request access to some of the tools and insights that we have. So some of our programs that track who's coming into our region from where and what they're doing when they're here, all of our members are listed as points of interest in that program.
[00:19:54] Haleigh Doyle: So people can tap into us to see whether they're filling out for grants or just their own marketing sake, [00:20:00] who's coming here and where are they from. So that's something that we can help with. But further when it comes to membership, we have a membership newsletter that goes out every single month and that lists all of the meetings and conventions that are coming to the area, not just upcoming festivals that people can lean on us.
[00:20:20] Haleigh Doyle: To know how to promote or work with us to promote to those meetings and conventions, whether it be get on a short list of Recommendations that our sales team tells people where to go when they are in town or otherwise or having a special promotion We have a lot of different opportunities whether that be on the leisure travel side or the meetings and convention side to learn more about what's going on Currently and how to optimize on that further.
[00:20:44] Haleigh Doyle: So we're always just a phone call away letting people know what's happening. Otherwise, again, just If you're not a member, using our events calendar and seeing what's coming up too, so you can reach out to an audience that fits the niche. So, obviously, Oktoberfest USA is just easy for use in this instance.
[00:20:59] Haleigh Doyle: But [00:21:00] there's a lot of craft beverage people coming to town and people that will be drinking, they need to carb up too. So it's a great restaurant opportunity, but how can they get… off the grounds as well and take a little breather and what can they do from there. So then on your Facebook ad, you're targeting craft beverage people or festival people that are coming to the area.
[00:21:18] Vicki Markussen: Well, and I always like to say too, when you join a larger organization, the Dollars get pooled together, and together you're able to get noticed in ways that you wouldn't had you been trying to do that on your own and your visitor's guide is unbelievable in terms of the visitor's guide is your print publication.
[00:21:39] Vicki Markussen: Can you talk about the reach of that and the impact and how you use that?
[00:21:43] Haleigh Doyle: Absolutely. So Our visitor guide is our singular publication that we push out, and every year we print 000 of them, and they are distributed at our local welcome centers, as well as at conventions that our tourism [00:22:00] staff attends to them.
[00:22:01] Haleigh Doyle: That fit the niche of bringing travelers here. So different travel conventions, and then they're also mailed out per request. So even though we really try to push the digital version for sustainability sake on our website, we do mail out through a request program on our website, visitor guides, so hard copies to, I mean, thousands of people, not just in the Midwest, but across the nation, which is really interesting to see.
[00:22:26] Haleigh Doyle: And our tourism team actually tracks that now. see what states are interested, which again is like actual real time valid information of who's interested in coming here. So we've loved that they're tracking that even more than they ever did before. But yes, members get a free listing In our guide, there's the opportunity to get featured in relevant and timely articles, so whether that be dining on the water, pet-friendly locations, things like that.
[00:22:53] Haleigh Doyle: We're always looking for timely articles to write, and members can get featured in there. And then further, only members get the opportunity to [00:23:00] put ads in the guide. So, yes, they are paid, but it's an exclusive. exclusive piece where you only have limited competition among those 400 people or 400 members.
[00:23:09] Haleigh Doyle: And it's a strong piece, and we're super proud of it. And honestly, it helps, the funds that we get from the visitor guide really just helps us push grant programs and things further. It doesn't really hit a bottom line on profit for us. It's really all about giving it back out. So everything that comes in, we push back out.
[00:23:26] Haleigh Doyle: So it's all full circle benefiting you.
[00:23:29] Vicki Markussen: And it's always interesting, too, because I think a lot of people would logically say of course, you're a restaurant, or you are something fun to do, a recreation. Of course, you're going to be a member of Explode La Crosse. But the membership goes beyond that because You have businesses who those businesses are their customers, and they want them to be successful.
[00:23:51] Vicki Markussen: So you have a lot of members who aren't necessarily directly seen as a tourism organization. And a lot of [00:24:00] times I'm guessing those companies are especially handy as you guys are doing your own events, and they're willing to support becau the ripple effect, that i some of those events has.
[00:24:20] Haleigh Doyle: members that again, like you said, aren't even in the travel industry, but see the value of what we do. We have insurance groups. We have investment firms that just pay a membership fee because they know the impact that we have. And we're so grateful for them because they push it further, and they talk to people that really trust them with information.
[00:24:39] Haleigh Doyle: And again, it's just that ripple effect, whether it be locals or otherwise. But. With the events that we have, the sponsorship opportunities, whether that be at Between the Bluffs Beer, Wine, and Cheese Fest or sponsoring our Explore La Crosse Day that takes people by, locals actually, by bus to a brewer game over in Milwaukee.
[00:24:58] Haleigh Doyle: We have our Frothbite [00:25:00] Beer and Bites Festival that happens every winter in December that sponsors contribute to. And then we also have Bluff to Bluff Trolley Tours, which is really exciting. historic trolley tours, too. And our sponsors really help us get that message out there and help us fund those unique opportunities that we wouldn't be able to necessarily pay for otherwise.
[00:25:20] Haleigh Doyle: And we know bring visitors in for overnight stays.
[00:25:23] Vicki Markussen: Wow. And people will hear this and go, well, I have fun, too, with some of those. Yeah. As you should. Yes. Right. And again, I look at you as being, you as having the ability to lead other marketing efforts in the area and smaller businesses because we can see what you're doing and going, Oh, content creators.
[00:25:43] Vicki Markussen: That's interesting. And on a smaller scale, it might be, how do I get local people sharing what they're experiencing at my business? Because that's a like that's another circle of influence without actually paying someone to come in and create that, but it's just a different way of thinking. And so my [00:26:00] question is, where are you looking at next?
[00:26:03] Haleigh Doyle: So our new initiatives moving forward are definitely going to be using our learned data to optimize what we already do. Especially coming out of the pandemic, the, the yucky word, no one wants to talk about, but there isn't necessarily a true new normal yet. And so, with all of the analytics we've been able to pull post pandemic, really starting to make strategic and smart decisions.
[00:26:28] Haleigh Doyle: Because I feel like enough time has passed now that we can get some learning from our visitors to make sure that our marketing efforts are pushed to the right audience and sharing the right message that. Means the most to someone out there. So we'll be using our learned data and a lot of the different applications that we do, but even further, I know our team is really looking at furthering that visitor experience.
[00:26:49] Haleigh Doyle: So in all of our welcome centers, making sure that whether it be the volunteers that are working there or a visitor tourism staff, that they have resources, modern resources [00:27:00] to help people that come through, learn the most. in the reasonable amount of time that they can about our area and get the most out of their experience.
[00:27:09] Haleigh Doyle: So whether that be anything virtual, or different types of flyers or QR codes that they can take to find things easier. Really, obviously our visitor guide has already existed, but really how can we emphasize that visitor experience before they're even interacting. So at I-90 passing through and inspiring them to come back, or at our visitor centers in town, that's something that we're looking at.
[00:27:31] Haleigh Doyle: Thank you. But especially Explore La Crosse is making sure that we keep sustainability, diversity and inclusion in mind. We are really shifting our focus on making sure that we appropriately take the right steps. Obviously, it's such a broad initiative, right? There's so many things that you can do.
[00:27:48] Haleigh Doyle: And as someone that people look to in the community, and we have members that engage with us, we want to make sure that we take the right steps and that they're strategic, whether they be. small at first and then g whether it be a [00:28:00] big thing right away. I know we our belonging and matteri is for hospitality and opt into to really learn feel welcome and safe in
[00:28:14] Haleigh Doyle: But also just how can explore La Crosse promote that on our website with an awesome landing page to really emphasize what we have to offer and or making sure that our media is pushing out what that is, or having people represented in our visual assets has definitely been an increasing initiative that we have as well.
[00:28:34] Haleigh Doyle: So there's, like I said, it's a really big project to take on and it's. It's always going to be evolving, and we'll never be done with it, but I think that's something that's really important and timely right now, and that any business should really consider moving forward to stay relevant, especially as we have these younger generations coming up, that they will spend more to make sure that the business Or brand aligns with their values.
[00:28:58] Haleigh Doyle: And that's really important to keep in mind[00:29:00] because they're going to be the people coming through and spending the money now. And so just staying on top of that will be important. So my
[00:29:07] Vicki Markussen: common closer question is what makes you passionate about what you do?
[00:29:14] Haleigh Doyle: Well, I could talk for about six hours on Explore La Crosse, so it's been fun here.
[00:29:19] Haleigh Doyle: Um, but honestly, I went to UW well because yes, they have a great business school, but let's like look at the downtown and the topography here, right? Like that was something so easy to fall in love with. And my husband and I both appreciated it. And even though we left for a little bit after graduation, we knew we wanted to come back.
[00:29:39] Haleigh Doyle: And what? a cool reason to come back than not only to enjoy that region, but tell others how to do that. So it's pretty easy to fall in love with your job when your job is to push out the messaging of how to make memories with those that matter most. Yeah, it's a great industry and making a difference.
[00:29:59] Haleigh Doyle: [00:30:00] for the community around you is so rewarding as well.
[00:30:04] Vicki Markussen: You've been listening to Haleigh Doyle. She's the Director of Media and Marketing at Explorer La Crosse. This is BizCast. We will catch you next week.