Pettibone Resort Seeks to Buy, Rezone Old Company Store Building on Causeway Amid Neighbor Concerns. 
Plans call for Condos, Apartments & Temporary RV storage.

Mark Pretasky with his company 2 PM LLC, is seeking a zoning change for the former Company Store building at 455 Park Plaza Drive, which is opposite the entrance to Pettibone Park.
"I am in the process of closing on the property north of and connecting to my business, Pettibone Resort," Pretasky says in his request to the City of La Crosse Judicial & Administrative Committee. The letter was dated January 6 and states he will close on the purchase with Hanover Direct, who purchased The Company Store, on January 20. A letter from Hanover Direct approves the change.
The J&A Committee will hear the petition and have a public hearing at 6:00 p.m. on Tuesday, February 28. The request is to rezone from Planned Development – General to Planned Development – Specific. The application says the property is in a flood zone, is consistent with the City's Comprehensive Plan.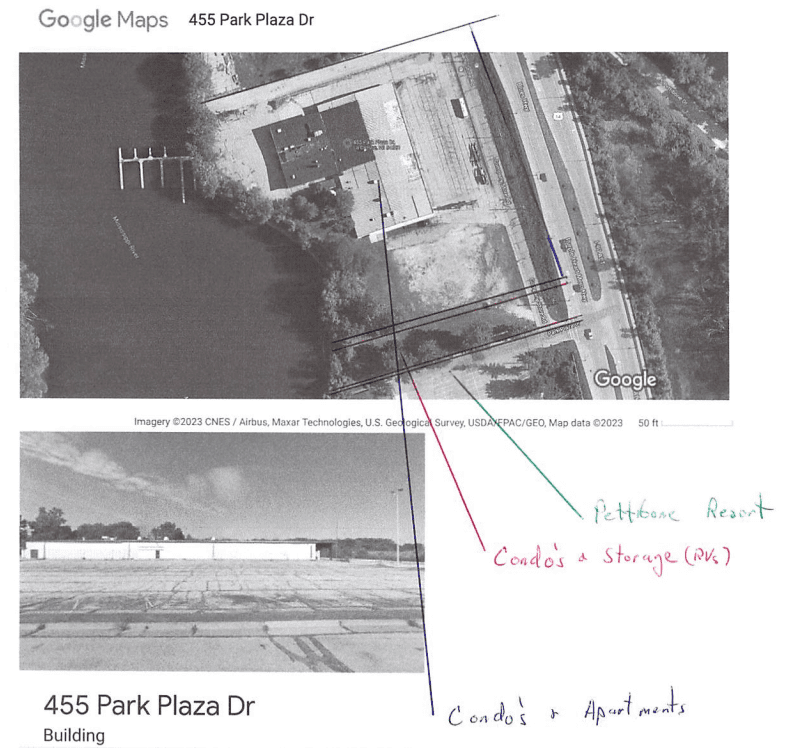 "My short-term plans include the demolition of the current building within the next two years," Pretasky wrote. "My long term plan is to develop the property with condominiums and apartments, which would be an asset to the City of La Crosse. I am also planning to use approximately one acre of the land that is connected to Pettibone Resort for temporary flood evacuation storage and temporary winter RV storage. We have been using this property for flood storage in accordance with our mandated flood plan, which is approved by the Mayor, police chief, and Director of Parks and Recreation annually, for over 30 years."
Current property taxes paid by Hanover of just over $23,0000. The City lists the fair market value at nearly $1.4 million. The property peaked in value in 2009 when its fair market value was $1.7 mil and paid just over $46,056 in property taxes.
Several neighbors to the north of the property have written letters in objection to the zoning change. Water Place One, LLC owns the vacant land directly north of the former Company Store and the property along the Mississippi River to the west of the property. The land once held a Holiday Inn. The attorney for Water Place One, Phil Addis, says they are concerned about the storage of RVs so near their development and that there are not enough details in the development plan. 
The entire stretch from the former Company Store North to the new condominiums is part of the City's Tax Incremental District #10.