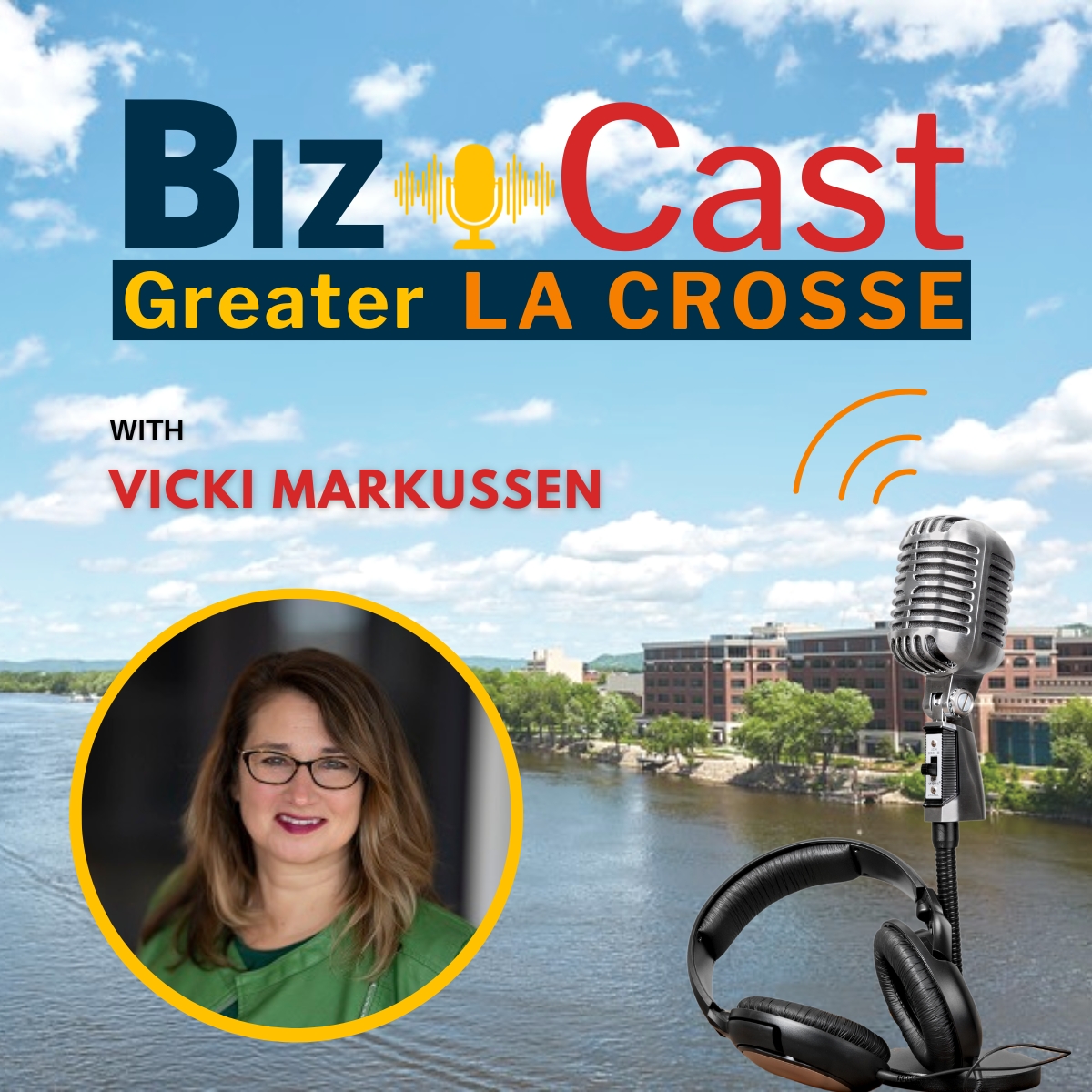 Episode 07
State of the Airport: La Crosse Getting Additional Flights, Larger Planes
About BizCast Greater La Crosse
We bring you news from the business community. From startups to experienced problem solvers, you'll get in-depth insight on the challenges and opportunities of doing business in Greater La Crosse. Our show is a collaboration between WIZMNews.com and BizNews Greater La Crosse ( GreaterLaCrosse.media ).
 Ian Turner 0:01
 The only people that it's helping in great quantities are pilots. And for the rest of us, it just makes traveling more difficult.
 Vicki Markussen  0:11
Welcome to BizCast Greater La Crosse brought to you by biz News. We bring you the news out of the business community. I am your host, Vicki Markussen, and joining me is Ian Turner. He is the director of lacrosse Regional Airport. Traveling is very interesting these days. The prices, I'm sure it's impacted by gas, the availability of flights. So, give us an update. What is all happening out there?
 Ian Turner 0:36
Gladly. And good morning. The situation from a business standpoint at the airport is a little bit of a mixed bag, if you will. It's definitely not 2020 anymore, which is a great set of improvements. But the impacts of what went on over the last three years continue to develop. And we're seeing results, as you alluded to there, of higher ticket prices, which is a result of incredibly high demand here locally as well as across the nation, and a lack of supply. And the customer is seeing that in the lack of flight options, higher ticket prices, but a really strong demand to go where they need to go or want to go.
Vicki Markussen. 1:17
Typical economy, right? Supply and demand. So, what you're saying is there's a lot of people wanting to fly, but the supply of flights isn't there. What has happened since 2020 with the supply of flights?
 Ian Turner 1:30
The supply of flights issue is really driven by pilots. If you don't have pilots and can't fly planes, you don't have any room to grow. That predates a lot of things. It's been going on for over a decade. It kind of developed as I was getting ready to enter the workforce. And at that point in time, it was something was kind of on the. Near term future. And now it's today. When we look at that, there are more pilots retiring for the projected 5678 years than new pilots entering the workforce. And so that's the the biggest challenge, particularly in small regional markets like lacrosse. You see the same thing happening at the central Wisconsin airport or Duluth. It's not a market that's easy for the airports and the communities. The only people that it's helping in great quantities are pilots or people becoming pilots. Their salaries are growing. They're in high demand. It's really easy for them to get a job. And for the rest of us, it just makes traveling more difficult.
 Vicki Markussen. 2:35
We had talked before 2020 about everyone knowing there was going to be a pilot shortage. The message that was actually coming from your predecessor was, when are the airlines going to start to address that problem? And so you and I chatted before this. My son is becoming a pilot. They are investing about 25% back into the pilots as a tuition reimbursement. But we're being told even if everyone who's a student right now graduated, there would still be a shortage. So, my question is, when is that expected to stop? I mean, is this just an endless ask for pilots? Is there any idea of when that need will get met and we can start increasing flights?
 Ian Turner  3:16
 There is no data out there that suggests a specific time when the pilot shortage will be resolved. And you have a number of factors driving that, but you have airlines that are recognizing that they have to do something now. Right. This was something people running airports to small communities were trying to get changes for several years ago. There's also some regulatory hurdles out there of a gap between when somebody gets all the certifications that they need to when they have enough hours or experience to sit in that right seat, or become a captain of a regional jet or a mainline Delta American United aircraft. Finding out a way to safely as well as legally and appropriately to the consumer. Close that gap is really the thing that we're looking at as needing an answer. You add on what it costs to become a pilot, it's not one barrier that need to be addressed.
 Vicki Markussen  4:11
That has a ripple effect on our availability of flights, is where we started with this. Right? So we had worked prior to the pandemic really hard at getting a flight to Detroit that now is no longer. And so can you talk about how the airline prioritizes where planes go, where pilots go, and how that's impacting lacrosse?
 Ian Turner  4:34
The last thing that the airlines want to do is to shrink their network and serve fewer communities, because across their network, that makes them less competitive between each other. Right. Our Detroit destination landed in that they have your pilots flying routes, and so they've consolidated to serve communities to the closest hub. And what that does is it does not eliminate passengers abilities to get where they need to go. It just may take a little bit longer. Somebody flying to Detroit to get to the East Coast can still do that, but now they have to go through Minneapolis and then Detroit. So it's a little bit inconvenient. The connections may not be there, but you still have that possibility that's what the airlines are doing is really consolidating and using their labor time as efficiently as possible to serve as many communities as they can.
 Vicki Markussen  5:28
So, it's really about we still service lacrosse. It just may be a little more inconvenient for people in lacrosse to get where they need to go.
 Ian Turner  5:35
 That's absolutely correct, and we're quite fortunate to be able to say that we still have that Delta service and that American service. There are communities across the country that have lost entire airlines as well as lost entire all of their service. What I'm thinking of is United has left Rochester, Minnesota. They don't fly to central Wisconsin and Mosinee anymore, and that list is quite long. Dubuque has no air service at this point.
 Vicki Markussen  6:04
I know before, Fort McCoy was a major player for lacrosse in terms of ensuring that we were on pun intended, I guess, on the radar right, of the airlines. Is that still the case?
 Ian Turner
 6:18
Absolutely. Fort McCoy serves a couple of different functions for the airport. So you have the air service piece that we've been discussing. They are a reliable, continuous source of not just passengers, but also car rental, restaurant, other ground transportation type services that generate revenue and keep the airport self-sufficient. And that hasn't gone away. That demand is there. It's generally not going to change a whole lot because of that critical national defense purpose.
But there's the other side of that, of one of the functions of the airport and what it serves is we have a governmental mission. We serve as a staging point for large training exercises that occur at Fort McCoy. And when I say staging point people, they charter aircraft that come in not as a commercial airline, even though it may have Southwest or United on the tail, but the dod has hired those aircraft to bring troops in, and we serve as the transportation focal point. They get on buses and go to Fort McCoy. That generates landing fees, fuel flowage fees that are not generally published out there in any of our statistics that the airport publishes on a regular basis.
Vicki Markussen
 7:29
That's a good segue to what makes a successful airport. Front and center in my mind of what a successful airport is that it's self-sufficient from the start. We are funded by the fees and rents that we charge, and we're not on the tax roll. There are communities in size of lacrosse where their airport is being subsidized by property taxes. Us. That's not the case here. That's my number one goal and threshold or key performance indicator. If you will, of success. We're very financially sound airport. Our passenger numbers have dwindled a little bit, we've had to address that, but we're being successful in that endeavor at this point in time. As part of providing services to the greater community, I categorize them in four areas. There's the social benefit, we have a governmental benefit, recreational benefit, so the economic benefits, are an easy one that we've talked quite a bit about, it's the air service. It's getting people on vacation or business travelers to where they can sell their product or find their vendors. We are bringing the Blue Angels in for AirFest, which they are coming back in June of 2024. We are really excited about that. Glad we have some time to prepare because it's a lot of work with a dedicated group of volunteers. We have groups like the Civil Air Patrol that have an educational mission that may also at times provide search and rescue functions which do occur at the La Crosse Airport, to our Aviation Explorers program, which targets high school kids to get them involved in careers in aviation. That's the social mission of the airport and something that is very important beyond the economic governmental mission. We talked about Fort McCoy. To support VIP visitors, whether it's president, vice president, EPA administrator coming to town, and employment. We're all city employees. We're Department of City La Crosse. Then the last one that people probably see the most of flying around the airport is a recreational piece. People who have their pilots, they own a private aircraft and they just go fly for fun.
 Vicki Markussen
 9:29
You had mentioned the economic piece of this, and there is a ripple effect, right? Like people don't just come and get on a flight, they park. There's a car wash out there. I know they get food. What has been the ripple effect of an airport that I'll just say is in transition, right? Like it's not what it was and it's still not what it can be. So what does that ripple effect look like?
 Ian Turner
 9:54
 We see fewer passengers. There's been an interesting little phenomenon. You would expect all of our revenue sources to dwindle at the same rate as the number of passengers that are departing and whatnot, and that's really not been the case. Some of that is how reliable Fort McCoy passengers are. They're a little bit less sensitive to ticket prices because they have to get to Fort McCoy because that's their destination. And what that's translated into is that car rental revenues have been very consistent. They are now our largest source of revenue at the airport, where in the past it's been parking revenue.
So our parking revenue has gone down, but our car rental revenues remained arguably very similar. And so that's really lessened the economic impact to our budget.
And that's been a bright spot, if you will. And one of the biggest questions, why don't you have service to fill in blank? And the answer to that is that, well, it depends on where you want to go. We can't support a direct flight to every airport, as you and 50 of your friends would have to fly that route every single day. But that doesn't mean we don't have a list of airports that we are trying to get direct service to. And our number one unserved market where people fly from lacrosse is Orlando or some Florida destination. And so we're always talking to the airlines about gaining that direct service to to Orlando, Phoenix, and Las Vegas or two other destinations.
 Vicki Markussen
 11:27
Some of those sound like snowbird type of trips, right? So I'm guessing there's a seasonality to some of this. Does that work? Does that happen with airlines to, say, during the winter time? We're going to have certain flights, but we're going to pull them back at other times of the year?
 Ian Turner
 11:40
 It can. there's two passenger categories I would say that we're trying to serve. There's the business traveler, which are generally served by an American and Delta in the lacrosse market. And then there's the leisure traveler. And right now, a vast majority of our leisure travelers are not utilizing our local market, and that's why we see those destinations rise to the top. And best way we can continue to serve the business traveler is to increase frequency in this market. So we're talking to Delta and American on how we can provide more seats in our market. What we're seeing right now by the end of 2023 is additional flights to Chicago starting next month. So we'll be back to three a day, which is great. Excellent. And Delta, while there is no timeline on adding additional flights, by the end of 2023, we will see larger aircraft each and every day versus the 50 seat regional jet we've seen historically. So those are small gains, but those are very important to me in my role, because that shows that are committed to La Crosse. We're not at risk by our airline, and they want to provide what we need, which is more flights, more seats. We can't see it yet, but it's there.
 Vicki Markussen
This is Vicki Markussen. You've been listening to BizCast – news coming out of the business community. We'll catch you next time.